The largest city of Manitoba, Canada, is the capital Winnipeg.


Winnipeg was incorporated 1873 and has a population of ~640.000

UPDATE:
How can we get life in Winnipeg more sustainable?
One possible solution:
Use of renewable energy = Solar + Wind energy!
Many cities around the globe do it, let's try to get Winnipeg more green
more Nature friendly for us and our children!

The past couple of years I have been tremendously touched by the number of positive responses and feedback that I have received in my efforts while pushing our city and provincial governments to "do a little bit more" for a greener healthier sustainable future. I am very confident that Winnipeggers / Manitobans want to see a brighter sustainable economic future for the next generation.
Here is where we are today:
- A provincial government who prides itself on doing "just enough" or very little, next to nothing in an effort to maintain their seat in power.
- City councilors, who for the most part, doing what their provincial campaign backers tell them to do, which in most cases have no bearing on the their own community's needs.
- The business community waiting on provincial and city governments to put in place policies that have a meaningful environmental economical sustainable climate.

This we must change!!
Why should we change this? Here's why:
Bloomberg, who was the world's leading independent expert on renewable energy, projects that by 2030 two hundred billion dollars ($200 billion) will be spent annually on green environmental projects. Our current deficit stands at $500 million dollars that means we spent $500 million more than we earned and our overall debt currently stands at over $12 billion and growing. Let's do the math: 10% of $200 billion is $20 billion - which if we could only put the policies in place to attract green business from around the world both our deficit and our debt would be cleared in a few years. Now let us say we fall short and we happened to only attract 1% of this projected amount, it will see us with $2 billion investment and I'm sure this type of green investment in this province would create more jobs than we have seen in the last 10 years. In fact, because our government does so little, maybe we could achieve attracting a .5 of a percent that is $1 billion annually. Now what do you think - can we achieve that? Will our governments help with policies?

With billions of dollars in new revenue it will keep our community working; prevent us from waiting for federal financial handouts; will create true economic growth, and it will ensure a more sustainable future for our children. Not paper economy, as most of us are accustom to. We can do this - I know we can, and when you go to polls vote for the candidate that has demonstrated good sound leadership with respect to the environment. We need our economy strong again but we cannot do it with policy makers sitting on their thumbs.
Canada, the U.S. and the U.K. are the countries leading with respect to policies to create a brighter economic and environmental future. So we are competing with all the other provinces of Canada, U.K. and the U.S. and the question we must ask ourselves: Will we get our piece of the pie? And if not, is blaming double-dipping politicians who will get a federal and provincial pension of $80,000+ a year the answer, or do we DEMAND from them action and not political rhetoric.
Just in February of this year in Vancouver, Wal-Mart's Green Business Summit was held and a number of companies pledged to take the lead on creating sustainable economic growth. I'm sure you have seen them: Sun Chips = 100% compostable bags Hallmark Canada = almost 10% of reduction in it's energy use HJ Heinz = reduce greenhouse gas emissions by 11.8% globally and 18.9% in Canada Home Depot = 220,000 million KWH saved and are testing solar and wind-powered LED parking lot lighting for a further reduction Wal-Mart = solar panels in 30+ stores and selecting fish and produce from farmers that practice safe environmental standards And I'm sure there are others.
Right here in Winnipeg - at Polo Park Shopping Center they have experimented with solar panels at their entrance lights and has worked out beautifully for them saving them hundreds if not thousands of dollars. We need Manitoba Hydro and the provincial government to not be comfortable with being the leader of renewable resource energy production, but instead look to take advantage of the opportunities the world is presenting us as per Bloomberg's $200 billion projected expenditures.
Our business community and our citizens at large must embrace composting. The Brady Landfill is no longer a garbage dump but a very valuable resource of collecting and storing methane gas for use, as well as creating small to medium businesses that sell recyclable products.
"'The ultimate measure of a man is not where he stands in moments of comfort, but where he stands at times of challenge and controversy'" and I will add what decisions he makes when faced with new ways of creating a more lasting economic future for our childrens' generation and having a lesser impact on the environment.
Who would of thought that a little over of a year after the community has embraced the name change of "Garbage Day" to "Recycle Day", "Plastic Bag Day" at the Legislature and months after "Reusable Bag Day" that we would see advertising on sides of buses, bus shelters, giant billboards encouraging our community to recycle more. Not just grocery stores encouraging the use of reusable bags, but retailers too.
So it can be done!!
Hard work, vision, determination, accountability, thinking outside the box are all essential ingredients to ensure that we don't fall asleep while the rest of the country and the world takes advantage of the green shift.

Let's keep Winnipeg beautiful !!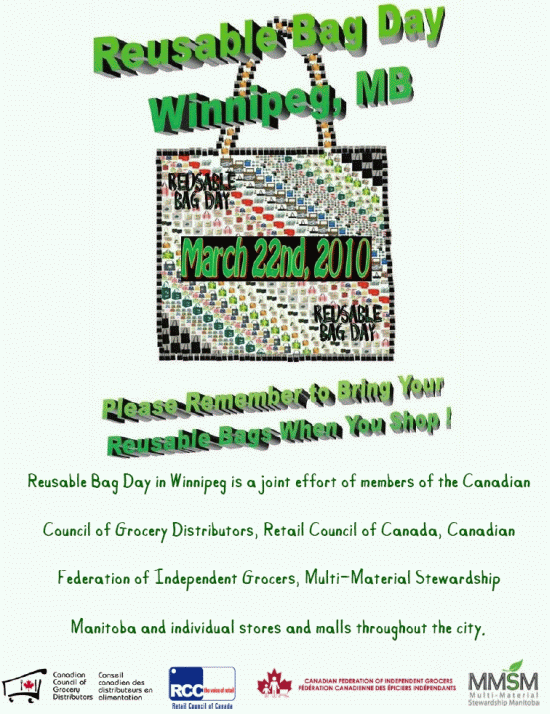 Winnipeggers' efforts to go green.
Following up from our success of our Plastic Bag Day where we gave away over 3,000 reusable bags we have all the major retail outlets in our city and province fulfilling part of their corporate responsibility to help us to be among Canada's top green cities.

Reusable Bag Day is just that; a day where our shopping public will be encouraged to use reusable bags instead of plastic bags. We are all aware of the damning effects to the environment that plastic bags cause so this is truly one sure way of moving us away from the habit of using plastic bags. I am confident that this one day will save in excess of $3 million plastic bags entering our landfill and contaminating our ground and water supply. Surely, another big day for the environment.

Reusable Bag Day in Winnipeg and throughout Manitoba is a joint effort of members of the Canadian Council of Grocery Distributors, Retail Council of Canada, Canadian Federation of Independent Grocers, Multi-Material Stewardship Manitoba and individual stores and malls throughout the city/province.

So remember, when you go shopping please take your reusable bag.

Thank you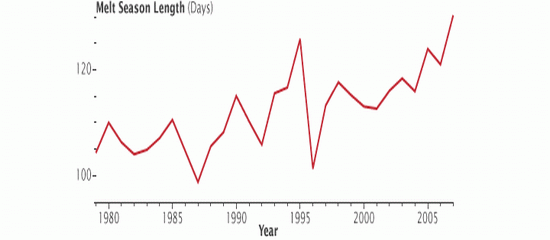 NASA satellites measure temperatures and the amount of arctic summer days.
Can you see the trend?


Don Woodstock
One of the hot topics last week was dealing with/looking at giving our citizens a chance to increase their garbage input to the landfill. While I agree with the notion that everyone has the right to decide whether or not to recycle, I am sure we can all agree that without the consciousness and willingness of most of our citizens to recycle as much as possible, our city will remain at the bottom of the ladder among cities that are moving towards a more sustainable future.
I am confident that we have not truly examined the effects of last week's action by City Council, and we still have some tweaking to do with the subject. Council in my view has done their best with the situation at hand however; here is a different angle that I would humbly ask His Worship the Mayor and Councilors to consider.
The Winnipeg Chamber of Commerce has been embarking on this concept to sell our beautiful city to the world as a Green Sustainable City in an attempt to attract Green businesses. What will the headline read with this vote to allow our citizens up to 360 liters of garbage to be placed in the dump? It may be viewed by others that we clearly have no interest in promoting recycling as a way of life to ensure that our children's children will have a more sustainable future.
In the late 60's, Prime Minister Pierre Trudeau embraced multiculturalism which paved the way for me, a country boy from Jamaica and so many others from all over the world, to hold our heads up high and say without fear of contradiction, THIS IS MY WINNIPEG, MY COUNTRY TOO.
I'm sure there are other noted politicians that have been known to step out on a limb to do the right thing despite criticisms and the possibility of a loss of votes. This may be one of such moments, similarly when we had the controversy of a "No Smoking" Ban or the building of the Flood way. Please let us take advantage of this moment to put our city on the recycling path and reduce the amount of garbage to our landfills.
Besides, who needs to dispose of 240 or more liters of garbage each week? Winnipeg police with all it's hardworking men and woman need our help cracking down on criminals using our neighbourhoods as cover for grow ops or meth labs. One indicator of this, is excessive weekly garbage disposal, which means that you could be doing something, chikeeny, hanky panky or illegal. If you generate more than 240 liters of garbage each week then the police dept should be at your door checking what are you disposing of. For those who may need to throw away more than 240 liters of garbage, you should be paying $140 or more, an inconvenient amount not $33 .
We should all know by now that there are huge economical and environmental benefits to recycling. Let's face it, when compared to the rest of Canada, we have cheap labour, cheap land and cheap hydro, the perfect model for a successful recycling plant with us selling the finished product right here in Winnipeg, Manitoba.
I GET IT,in Jamaica we say " Yes Ayah, I an I man see it star, Yeah". Council is made up of various political factions, Right, Centre, Left and somewhere in between. But could it be that the Provincial NDP government is trying to find a way to prevent the City of Winnipeg from looking green and to be among the top cities in Canada that recycle because this imagine goes against their core beliefs and principles? Shouldn't we have a green sustainable agenda without any political backlash – whether you are from the conservatives, liberals, green or NDP parties?
I believe the time has come for us to rise above any and all hidden agendas and think about how we can alter our consumption habits in order to bring about a healthy, clean and sustainable environment for our children's' children with great economical benefits.
Recently The David Suzuki Foundation's Finding Solutions news letter "Winter edition" featured what we have accomplished with the name change from garbage day to Recycle Day, and we are reminded of the importance of the fruit fly, "IT'S AN HONOR TO BE CALLED A FRUIT FLY."
We have the attention of The Marine Conservation of UK and other International environmental groups.
Your Worship, councilors -- the Winnipeg Chamber of Commerce, our citizens and the international community awaits your decision.


Keep Winnipeg Beautiful!


Winnipeg's Climate Action Rally is part of the Global Day of Action on Climate Change.
People in thousands of communities in 150 countries will gather to show their concern for our climate crisis and to call for real action at the U.N. climate talks in Copenhagen.
the amount of plastic bags collected at our 'Plastic Bag Day ' event, why banning plastic bags is a very progressive thing to do for the environment and our children's, children future.

Together we can and will create a more sustainable environment for all.

Please encourage all your friends and family who can make it to be there, Government will only do what the people wants.
Approx.45, 000 PLASTIC BAGS WERE COLLECTED (44,674), OVER 3000 SOBEY'S REUSABLE BAGS HANDED OUT. A VERY SUCCESSFUL DAY FOR THE ENVIRONMENT.
Our Dogie Poop Bags was well received by all and clearly a very marketable product.

This was a great day for the environment and a positive step in our community journey on becoming one of Canada's top Greenest City.

To our volunteers a Million thanks you, our children will remember

Plastic Bag Day at the Manitoba Legislature Building, Winnipeg, MB
One thing is for sure,
Don Woodstock will always aggressively look for ways and means to help promote green consciousness.
To Don, green means visualizing the world our children will inherit, and having a social conscience and the courage to leave a cleaner, healthier, and sustainable environment for them by altering personal consumption habits while influencing others in one's home, office, and community to do the same.
Every little bit counts, and together we can make a difference.